Services
Major or Minor We do it all!
We're committed to providing high-quality, friendly service at fair prices. Please review our services menu below. If you need a service that's not listed, feel free to query us by e-mail or phone to find out if we can help you.
Our Warranty covers you 12 Months/12,000 miles COAST-TO COAST NATIONWIDE at No additional cost.
Extras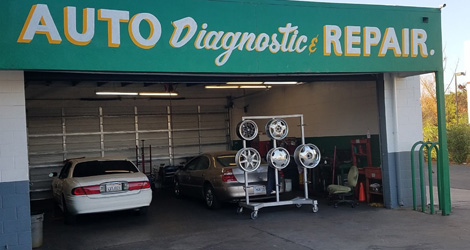 Waiting Area
Car Wash
Shopping Nearby
Open Evenings
National Warranty Program
Child-Friendly Waiting
Dining Nearby
Early-Bird Drop-Off
Open Saturdays
---
Great Deals
European alignment
Price: $129.99
WHEEL ALIGNMENT FOR AUDI,MINI,SAAB,BMW MERCEDES-BENZ,LAND ROVER.(most Models)
Restrictions: See Store for Pricing and Details.
4 WHEEL ALIGNMENT
Price: $79.99
4 WHEEL ALIGNMENT
Restrictions: MOST CARS, STD SIZED WHEELS, NOT LOWERD, SUV, VANS TRUCK AT REG. PRICE.
A/C SERVICE SPECIAL
Price: $89.99
Visual A/C inspection, Visual leak inspection,Vacuum leak test, Fill up to 2 lbs Refrigerant R-134a, Add Leak detecting color dye.
Restrictions: Only System with Refrigerant R-134a . Fill up to 2 lbs only.(most cars) More than 2 lbs charge $24.99 per lb.
FUEL INJECTION SERVICE
Price: $149.99
3 STEP PROFESSIONAL FUEL INJECTION SERVICE
NEW BATTERY
 Price: $109.99
 AUTO BATTERY (MOST CARS)
 Restrictions: WITH AN EXCHANGE + TAX , (european, and specialty batteries are extra)
Installation is extra
* AC FREE INSPECTION*
Price: FREE WITH REPAIRS OR $98.00 WITHOUT REPAIRS
INSPECT AC FUNCTION. PERFORMANCE TEST
Restrictions: MAKE AN APPIONTMENT ONLINE FOR THIS TEST.
FREE CHECK ENGINE LIGHT
Price: See Description.
FREE Check Engine Light Diagnostic or $98.00 without repairs
Restrictions: will charge $98.00 without repairs. it is FREE with repairs
Winter Special
Price: $89.99
*Tire inspection and rotation *Set pressure *Brake inspection *Multi-point Vehicle inspection *Replace the front wiper blades (Most cars) *Test Battery and charging system *Lube, Oil and filter change
Restrictions: Most cars with std oil change and std wiper blades.
WIPER BLADES
Price: $29.97
Replace 2 front Wiper blades (most sizes)
Restrictions: most cars. check store for details
FREE BRAKE INSPECTION
 Price: See Description.
 Get Free Brake Inspection with Repairs done the Same day
 Restrictions: Most cars. Standard wheels.
---
Our Services
Axle / CV Joint Repair (FWD)
Brakes: Standard or ABS
Clutch Repair
Electric: Batteries – Sell and Install
Electric: Starting and Charging
Engine: Diagnostics and Performance
Engine: Service/Repair – Major
Engine: Service/Repair – Minor
Heating and Air Conditioning
Preventive Maintenance
Preventive Maintenance: Severe Schedule
Quick Lube and Oil Change
Steering and Suspension
Transmission: Automatic Service/Repair – Minor
Wheels/Tires: Alignment
Wheels/Tires: Mounting and Balancing
Wheels/Tires: Sell, Install, Repair Tires
Wheels/Tires: Sell, Install Wheels
Vehicle Inspection: Total
Radiator Repair/Replacement
Axle / Driveshaft Repair (RWD, 4WD)
Differential Repair
Four Wheel Drive Systems
---
Service Menu
Brake Job, Four Wheel
Cooling System Flush
Engine Oil Leak Diagnosis
Replace Radiator
Replace Water Pump
Serpentine Belt, Replace
Air Conditioning Compressor Check
Air Conditioning Diagnosis
Air Conditioning Service
Air Conditioning System Performance Check
Heater Performance Diagnosis 
Replace A/C Compressor Idler Pulley
Replace A/C Condenser
Replace A/C Heater Fan Switch
Replace A/C Receiver/Drier
Replace A/C Refrigerant
Replace AC Compressor
Replace Blower Motor
Replace Coolant/Antifreeze
Replace Cooling Fan


Replace Fan Clutch
Replace Heater Control Valve
Replace Rear Evaporator
Replace Temperature Sending Unit
Replace the Heater Core
Replace Thermostat/Gasket
150,000 Mile Service
120,000 Mile Service
90,000 Mile Service
60,000 Mile Service
30,000 Mile Service
Air Filter, Replace
Checkup, Fall
Checkup, Spring
Oil and Filter Change
Wiper Blades, Replace
Replace Axle Shaft
Shock Absorbers, Replace Front
Alignment, Four Wheel
Alignment, Four Wheel
Wheel Purchase and Installation
---
Accepted Forms of Payment
Cards: American Express
Cards: MasterCard
Cash
Debit Card/Electronic Funds Transfer
On Account - Fleet
Warranty - In Store (No Charge)
Cards: Discover/Novus
Cards: Visa
Coupons
Gift Certificate
Repair Financing
Warranty - Wide Area (No Charge)
---
Cars Serviced
ACURA
AUDI*
BMW*
BUICK
CADILLAC*
CHEVY
CHEVORLET
CHRYSLER
DAIHATSU*
DAEWOO*
DATSUN
DODGE
EAGLE
FIAT *
FORD
GENERAL MOTORS
GM
GEO
GMC
HYUNDAI
HONDA
HUMMER
INFINITI*
ISUZU *
JAGUAR*
JEEP
KIA
LANDROVER*
LEXUS
LINCOLN
MAZDA
MERCEDES*
MERCURY
MINI COOPER
MITSUBISHI
NISSAN
OLDSMOBILE
PLYMOUTH
PONTIAC
SATURN
SCION
SMART
SUBARU
SUZUKI
TOYOTA
VOLKSWAGEN *
VOLVO *
* SOME RESTRICTIONS MAY APPLY